Eco-friendly packaging solutions
It's about time we let the world know plastic packaging belongs to the past. PaperFoam® is eco-friendly and biodegradable. In the production process of our compostable packaging we cause little to no damage to the environment, meaning PaperFoam® is also very sustainable. The biobased packaging is 100% compostable and eco-friendly!
Do you want your product to be packed in eco-friendly and biodegradable PaperFoam®? Contact us to start a project!

Contact us

Biobased and customized packaging
PaperFoam® consists of four ingredients, the main being industrial starch. We add natural fibers and water and we bake the mixture in a custom mold fitted to your product. The fourth ingredient is our premix.
By using PaperFoam® eco-friendly packaging you reduce the weight up to 40% in comparison to traditional packaging. Some of the benefits of the PaperFoam® packaging:
Excellent product fit and protection
Customized color and design
Embossing and debossing
Fine details due to the injection molding process
Stackable and nestable packaging
See our designs
Certifications
Producing compostable packaging, we give back to nature. The biobased material is broken down by nature within a matter of weeks. In addition, all PaperFoam® packaging is completely recyclable. PaperFoam® is completely biodegradable. When nature breaks down the packaging, it causes no damage to the environment.
The sustainability of PaperFoam® is not just a claim we make. To prove the biodegradability, compostability, recyclability and sustainability we received the following certifications among other recognitions:

Biobased
USDA Certified Biobased Product
TÜV OK Biobased (rank 4)
Recyclability
UL Validated: 99% recovery rate of available fibers
Biodegradability
and
compostability
EN13432
ASTM D6868
TÜV OK Compost
TÜV OK Home Compost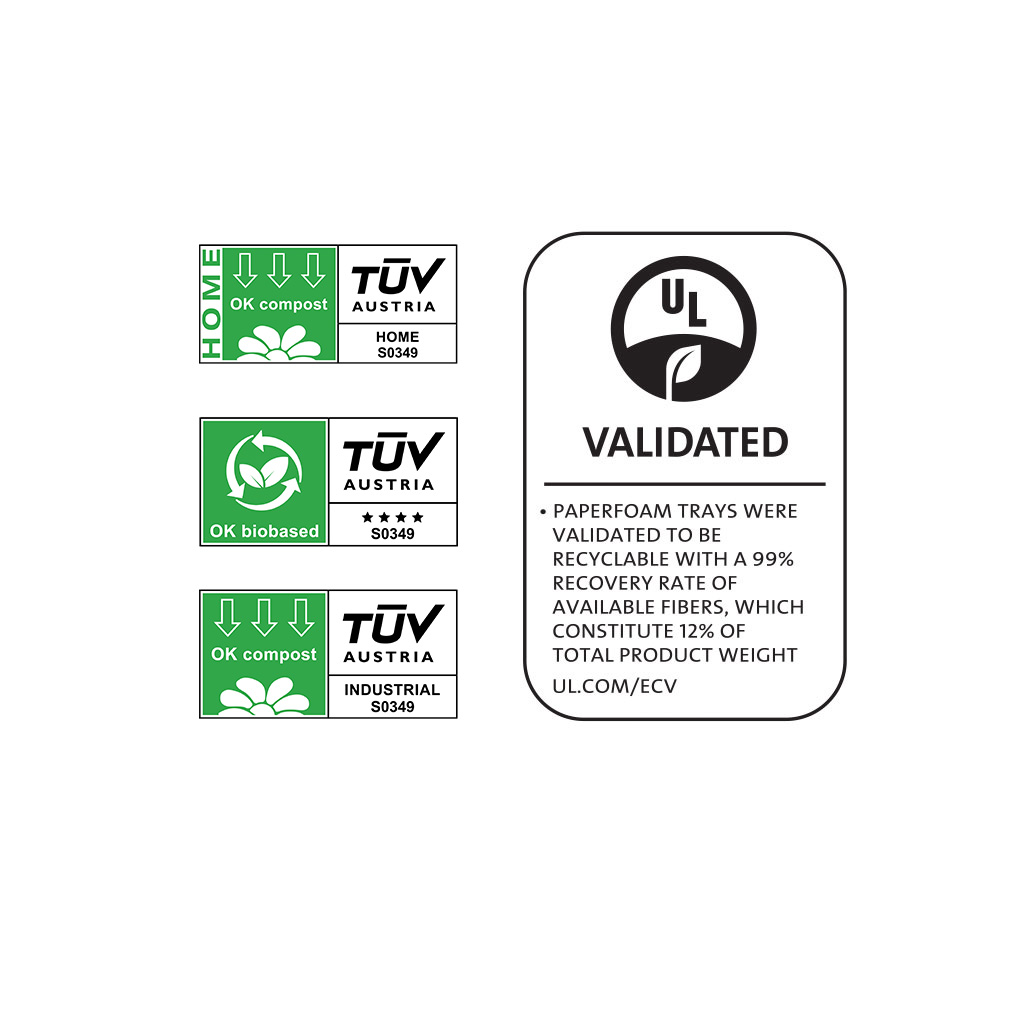 Biobased packaging solutions
For over 20 years PaperFoam® has been a leader in innovative green packaging. We design and produce packaging interiors with extremely low carbon footprints. Companies like iZettle, T-Mobile and Airtame use PaperFoam® in their packaging solutions. From design to production, we offer the best solution to your eco-friendly packaging challenge all over the world.
Design & production
We design custom packaging solutions using PaperFoam® for various industries such as consumer electronics, medical devices, cosmetics and dry foods. The PaperFoam® parts are produced in our own facilities with a patented injection molding technology.
Service
Cost-effective production, design and logistics implementation are key services we provide to meet the ever-growing demand for high-end product presentation.
Types of packaging
Package your product in our biodegradable and eco-friendly packaging. Companies such as Burt's Bees, Kipster, Fairphone, Kabloom, Nobel Biocare and many more already joined our cause by using our eco-friendly PaperFoam® packaging for their product.